Check Out The Latest Version Of The Walleye Wall Newsletter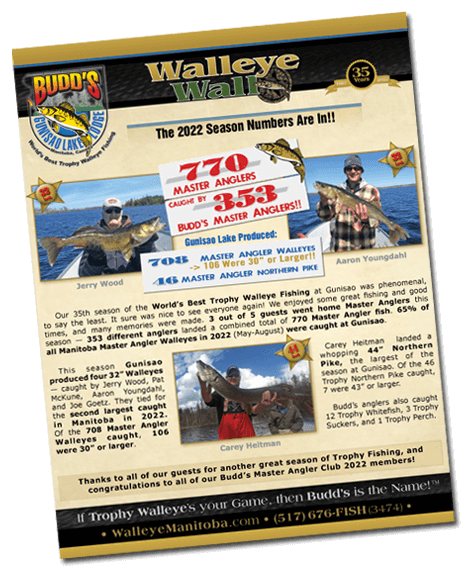 Each year we mail out a newsletter to everyone on our mailing list.



We take a look back on the past year's season with the Budd's Master Angler Club list, stories, photos, and more! To receive your printed copy, be sure to sign up for our mailing list at the bottom of this page.
The Budd's Gunisao Lake Lodge Walleye Wall pays tribute to our Master Anglers for the year and features:
 ◉  Budd's Master Angler Club List
 ◉  Photos, highlights, statistics, and stories from the season
 ◉  Latest news
 ◉  Upcoming sportshow information
Budd's Gunisao Lake Lodge Brochure
Our brochure has all of the highlights of the Budd's experience, and can be mailed to you, viewed online, or downloaded.
Would you like a brochure mailed to you? CONTACT US?